Good Morning!
October 8, 2020
---

"You make known to me the path of life; you will fill me with joy in your presence, with eternal pleasures at your right hand." –Psalm 16:11

---
"Three Questions" Youth Devotionals Engage Southeastern California Youth at Home

Pastors in Southeastern California Conference churches have worked tirelessly to keep their communities alive and connected during the pandemic. Most have turned to online methods and social media platforms for this purpose. Southeastern's Youth Department created video children's Sabbath School for 24 Sabbaths. Children and youth ministries pastors partnered with the Loma Linda University Church media team to create weekly videos that any of their churches could use. Eventually even short "Three Questions" videos providing devotional thoughts and discussion questions from pastors were produced. You can watch these videos on the SECC Youth Department website, their social media pages, and on their COVID-19 youth resource page.

Watch more from Southeastern's Youth Department:
---
Frontline Workers Highlight: Deputy Sheriff Anthony Sanchez

In San Bernardino County, a frontline worker is using his role as deputy sheriff to uplift his community during difficult times. Deputy Sheriff Anthony Sanchez became a police officer to provide safety to those who cannot protect themselves. Sanchez says putting on his uniform and being part of something greater than himself—a work that helps others—is one of the most rewarding parts of the job. "I wanted to become a police officer since I was little. I always looked up to them," Sanchez says. "When I joined, I knew it was the correct decision and I knew God was going to have great plans for me." Those plans led Sanchez to a field that call upon his integrity, responsibility, and willingness to serve. In his role as a deputy sheriff, he is challenged to lead by seeking ways to partner with others. The demands and challenges of his work prompt Sanchez to draw strength from God. "Having faith that God is going to be by my side is important," he says. "There are many times when I feel something can go off but knowing that God is with me gives me the confidence and reassurance to do my job." And it's a source of strength that Sanchez shares with those around him. "I've prayed for many of my partners," he shared. "Sometimes some partners have come up to me and ask me to pray for them. In a world filled with hurting people, I asked myself why I can't be the light in their life while doing my job."
Learn more about what Adventists are doing in San Bernardino:

---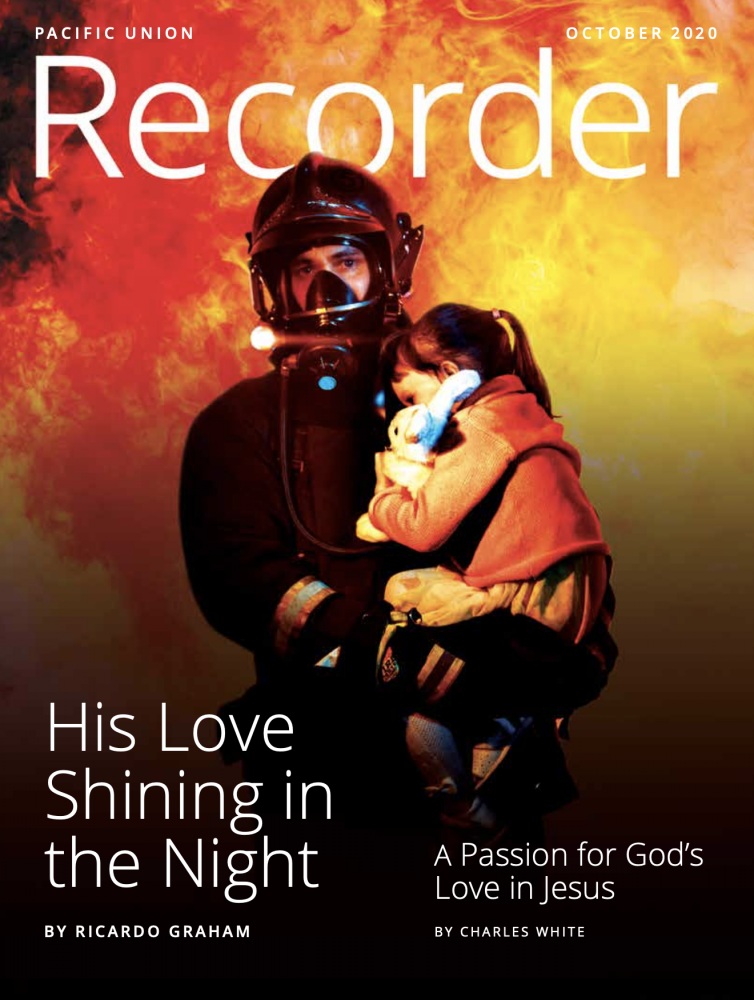 October Recorder
As part of our continuing "Love. Serve. Lead." themed issues, Elder Ricardo Graham writes eloquently about the way first responders touch our lives— and touch our hearts! (See page 4.) The composite image on the cover is of a firefighter, but it is a symbol of all of the first responders, including a large number of Adventists who work in healthcare, public safety, law enforcement, the military, civil service, and disaster response.
---
Western Prayer Circle
Today, join us in praying for the work taking place in the Southeastern California Conference. Ask God to bless their pastors, their teachers, and each member partnered with them in ministry.

---
P.S. Did You Know – About the Southeastern California Conference?

Southeastern California Conference is the largest conference in the Pacific Union, as well as the largest in the entire North American Division. As of June 30, the Southeastern Calif. Conference has 69,841 members with 179 congregations.